Aisa Kahan Se Laaen Kay Tum Sa Kahain Jisay is newly started cousin based romantic and exemplary novel by Faizan Ahmed. A story of a girl who faces colors of the world. A story based on true circumstances of our society.
ایسا کہاں سے لائیں کے تم سا کہیں جسے
مکمل ناول
Aisa Kahan Se Laaen Kay Tumsa Kahain Jisay By Faizan Ahmed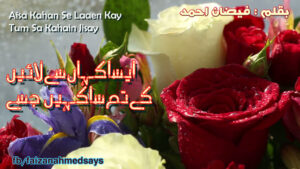 ایسا کہاں سے لائیں کے تم سا کہیں جسے بقلم فیضان احمد
مکمل ناول
Aisa Kaha Se Layen Kay Tum Sa Kahen Jisay Novel
ALL EPISODES LINK
Please support us by providing your important feedback:
Share this post as much as possible at all platforms and social media such as Facebook, Twitter, Pinterest & Whatsapp. Share with your friends and family members so that we are encourage more and more to bring you much more that you want. Be supportive and share your comments in below comments section. So that we can be aware of your views regarding our website. Read complete episodes of Esa Kaha Se Laayen Kay Tumsa Kahey Jisay on above link.
Your best Urdu Digest, Novels, Afsanay, Short Stories, Episodic Stories, funny books and your requested novels will be available on your request.