Ishq Ki Pehli Manzil By Farwa Mushtaq is very beautiful and Romantic Urdu Novel written by young and talented writer Farwa Mushtaq who has impressed with her Pen power with alot of readers out there.
Ishq Ki Pehli Manzil Episode 6 by Farwa Mushtaq. This is started in Mid of 2018 and largely liked by readers. Novel Ishq Ki Pehli Manzil as clearly the name states it all is Love Story. Its about a girl who has seen many ups and downs of life and fighting it all.
Urdu Novels Writer Farwa Mushtaq is also author of Maan Aur Muhabbat مان اور محبت
i.e available here in Urdu Pdf. Ishq ki Pehli manzil will regularly updated here in episodic corner Read here..
Ishq Ki Pehli Manzil by Farwa Mushtaq Episode 6
پچھلی اقساط پڑھنے کے لئے نیچے دئے گئے لنک پہ کلک کریں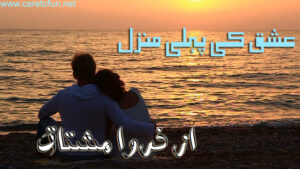 Complete Novel Ishq Ki Pehli Manzil All Released Episodes in PDF Format available at above link. if you are facing any issue in reading online you can download to your device.
Please support us by providing your important feedback:
Share this post as much as possible at all platforms and social media such as Facebook, Twitter, Pinterest & Whatsapp. Share with your friends and family members so that we are encourage more and more to bring you much more that you want. Be supportive and share your comments in below comments section. So that we can be aware of your views regarding our website.
Your best Urdu Digest, Novels, Afsanay, Short Stories, Episodic Stories, funny books and your requested novels will be available on your request.
Urdu Novels and Episodic series of your top most favorite novelists. Easy to read online as well as offline for download in pdf. Just visit us and search for your favorite novel and read online. Click Download to get to copy of PDF file into your device for offline reading.