Chashm E Namm is latest Urdu Novel Written by Ayat Noor. A Young talented Novelist from Lahore Pakistan. Chashm E Namm is based on romantic love story. Ayat Noor has started writing her first Novel in mid of 2018 and gained a lot of popularity with her magical words and beautiful topics.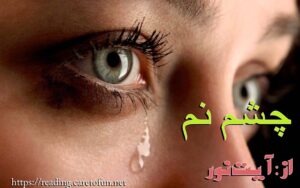 Read More novels Online from best Urdu writers and share your views also on novels through comment section. Also if you are interested in writing and wants to publish your novels/afsana Urdu material on Caretofun, feel free to contact us.
Chashm E Namm Episode 9
Download
Read here all published episodes of Novel
Please support us by providing your important feedback:
Share this post as much as possible at all platforms and social media such as Facebook, Twitter, Pinterest & Whatsapp. Share with your friends and family members so that we are encourage more and more to bring you much more that you want. Be supportive and share your comments in below comments section. So that we can be aware of your views regarding our website.
Your best Urdu Digest, Novels, Afsanay, Short Stories, Episodic Stories, funny books and your requested novels will be available on your request.